Straighter Smiles Were Never So Easy
If you dream about having straight teeth and a beautiful smile, look no further! Orthodontics could be the answer!
Orthodontics does more than to straighten teeth and get a gorgeous smile. Having straight teeth makes it easier to chew and speak properly; straight teeth are easier to clean; and they are less prone to getting decay and gum disease.
Straightening teeth are no longer just limited to children. Adults are commonly wearing them: because we live in an image-conscious society, impressions are made within a few seconds. Straightening teeth makes a difference, and can ultimately make or break your chances of getting certain opportunities.
Straighter smiles were never so easy!
Invisalign Clear Aligners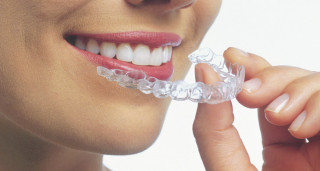 Dr. Gloria Yan and Dr. James Ahmoye are certified Invisalign providers, and are happy to provide this service to their patients. Asera Dental offers Invisalign Clear Aligners. With similar pricing as metal braces, people now have the choice to get straighter teeth without the wires. The clear aligners are almost invisible, as most people will not notice you are wearing them.
Invisalign effectively improves teeth with crowding, spacing, crossbite, overbite and underbite conditions.
Invisalign uses a series of clear trays that are custom molded to fit you. These invisible aligners reposition and straighten teeth within six months to a year, without metal wires or brackets! You can improve your smile without anyone knowing!
You start by wearing a set of aligners . Then you change aligners every two weeks as your teeth gradually moves. This process is repeated until teeth are moved to the desired position.
Invisalign are completely removable for eating, brushing, or special occasions. Never before has orthodontics been so convenient and effortless!
Ask us to see if Invisalign is right for you!
Damon Braces
If you are looking to have a more traditional orthodontic treatment, you still have options for a less intrusive smile plan. With Damon Braces, Asera Dental is able to provide an application that have a smaller bracket footprint for a more discreet and comfortable feel.
With the Damon Braces, we use a combination of smaller brackets and memory wires to move teeth to the desired position effortlessly and with less discomfort. The Damon System uses passive self-ligating braces that eliminate the need for elastic or metal ties. Monthly dental appointments often takes less than two minutes to complete!
The Damon Braces are also available in clear brackets for those patients who are image conscious.